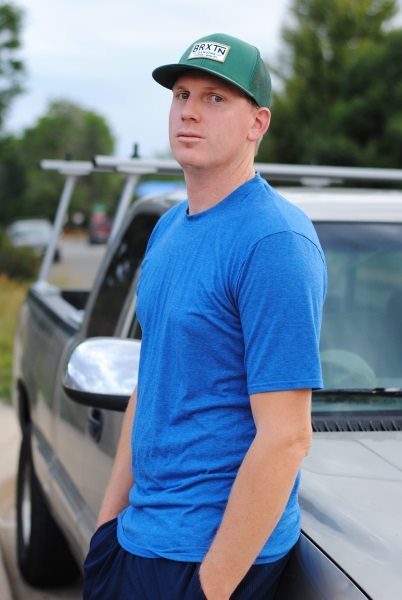 I see no reason to ever buy a shirt from anywhere else
"TallSlim Tees promised me relief from my t-shirt nightmare by guaranteeing that my shirts would not shrink or grow wide around the middle, and that the shirts would be comfortable. I bought four and loved them. Since then I have purchased three more and gotten four of my tall friends hooked on the shirts. I see no reason to ever buy a shirt from anywhere else, and that is a freeing feeling. I love the basic t-shirts in simple colors and I am looking forward to the designs that the tall slim team is working on. Thanks!"
~Marvin T.
6'6″ and 235 lbs.
Size: Large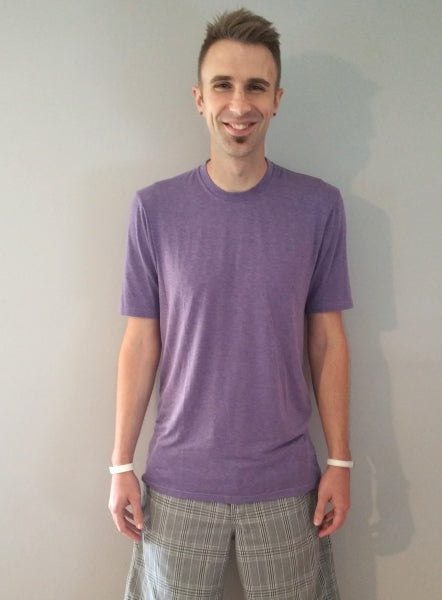 I will definitely buy more shirts
"I'm so happy to have found a clothing line that fits my body type! At 6'6 and 180 pounds I have always either bought large shirts that are too big everywhere just so I could get enough length or bought medium shirts and constantly had to tug down on the bottom of it to make sure it actually reached my waistline. I really like the texture and color of the 50/50 shirts that I purchased and I will definitely buy more shirts in the future. Thank you so much for offering a product that fits! And looking forward to seeing the new items you will offer in the future."
~Brad M.
6'6″ and 180 lbs.
Size: Medium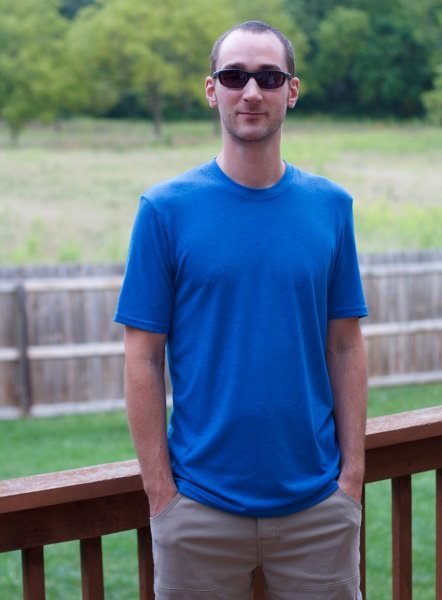 I can't think of anything I would change
"At 6'2″, 160lbs, my normal shopping experience usually ended in frustration due to ill-fitting and short shirts. I decided to give the Original 50/50 Crew Neck a try and I'm so glad I did! These shirts are perfect in length, fit, and material. They dry quickly, don't wrinkle easily, regulate body temperature well, and stretch with your movements, making them very comfortable. I can't think of anything I would change, which says a lot."
~Ben O.
6'2″ and 160 lbs.
Size: Small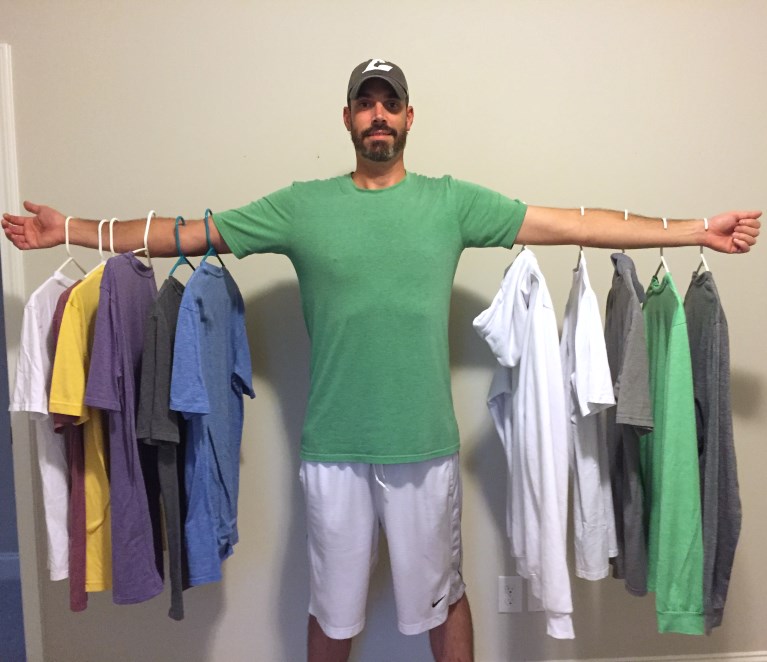 A great-fitting shirt every single time
"At 6'7″, 195 lbs, shopping online for tall shirts from Big & Tall outlets can be awfully frustrating. Often, the clothes arrive more big and wide than tall, and I'm stuck with the hassle and inconvenience of returning them. But with TallSlim Tees, I know that I'm going to get a great-fitting shirt every single time, and it's that satisfaction and peace of mind that keeps me coming back for more shirts…"
#12Shirts&Counting
#OneTallOrder
#TakingShirtsToNewHeights
~Ryan S.
6'7″ and 195 lbs.
Size: Medium
More TallSlim Tees Reviews
We keep hearing great things from our customers and wanted to share all of their stories and reviews. See what they have to say and see why TallSlim Tees have been so well received!
Have feedback you would like to share? We'd love to hear it! Please contact us and let us know. You can also read and/or leave feedback on our Facebook Reviews.
"Thank you!! Finally a tee shirt designed for my body type! I am 6′ 5″, 175 lbs, and Tall Slim Tees fit perfectly. I think I own one or two of every color and check your website regularly for new colors. All of my other tee shirts have been thrown away because I wear my Tall Slim Tees every day – literally. If I'm not in my business suit, I am wearing my Tall Slim Tee in the home office, when I go to the gym and even out for dinner with my wife. I've also ordered three of the Tall Slim Polo's and love them for nicer occasions. And, the price is outstanding and budget friendly!"



"I honestly love your shirts. I am 6'4″ tall and I used to weigh around 285 pounds. I lost some weight ,and I am now down to 200 pounds. It's really nice having a shirt fit you without feeling baggy. It really makes me feel self conscious when I try to wear a shirt that is way too baggy, short ,or both. Anytime I went looking for shirts mediums and larges are always to short in body & sleeve length, but then extra larges only got you a little extra length with a whole bunch of unwanted extra width. Most big and tall stores don't carry anything smaller than a large tall and even that is a little bit too big. The mediums from your website fit me great. The material great and you sell everything at a fair price. Not to mention the quality is right where it should be."



"TallSlim Tees was the best discovery I could have made for my boyfriend. He's really tall, and really skinny (6 foot 4 inches and around 170 pounds). Every time he raised his arms, his shirts would lift up because his torso is long. Normally, medium sized shirts are too short, and large shirts are too big. Getting the "big and tall" sizes at other stores didn't even work–he would drown in them, they were so baggy! After a bit of digging around, I stumbled upon TallSlim Tees; I did some research and read some reviews on blogs, trying to decide if these were really going to fit my boyfriend. Reviews on Amazon said that the tees were really good, soft, and wouldn't shrink in the wash (which was also a common problem with his old shirts). The best part was, the tees were fairly priced, they offered free shipping, and delivery was super fast! Well, needless to say my boyfriend was super happy when he tried it on. It was like a miracle–a shirt that fit him!? No way! But it did. It was still a little short, but he was so happy because he had never had a shirt that covered him below the belt line. After a few wears and washes, these tees hold up. They don't shrink heavily in the dryer, and the pilling on the shirts is minimal. They have also stayed super soft. 10/10 would recommend. Thanks TST, keep bringing in great shirts for tall, thin people everywhere!"



"The shirts are perfect! It's nearly impossible to find correct-fitting shirts when you are slim and tall, not big and tall. I ordered one t shirt and one collared shirt, size small. They fit great! The colors were as depicted on the website. They are also super comfortable. I'll definitely be buying some more of these in the future."



"Whenever I buy a large t-shirt at a department store, it fits great until I get home and wash it. Then it inevitably shrinks so it's even with the top of my pants (plumber's crack) and the sleeves shrink up to show off my lack of biceps. When I wear an XL I feel like if I catch too strong of a wind I am going to blow away! So I did some research and found Tall Slim Tees and thought I would give it a try. I couldn't believe how great if fit even after multiple washes! No more department store t-shirts for me."


"I finally have shirts that I feel comfortable and confident in! Not only are they a perfect fit in the length of the sleeve and torso, but the narrow width means I don't feel like I'm dressing myself in 18th century yacht sails. The texture and feel is lightweight and breathable, with a little extra stretch for when someone inevitably makes you reach up to the top cabinet, ensuring you're not left open for an atomic wedgie or a tramp stamp sighting. If you're 6'4″ and 175lbs like me, go for the medium, you won't be disappointed."


"This company makes great shirts. I was reluctant to spend money buying a shirt from this place, I just had never heard of them. Then I thought I'm tired of getting shirts that are made for big, tall people, that are big and sloppy or slim fit t-shirts are way to short and are always becoming untucked. I made the decision to try them. They don't shrink, they are made very well, the best part is they fit right. They actually fit perfectly! This was the first t-shirt that actually fit like I always wanted and expected. I would recommend their shirts to anyone and everyone, who wants a great shirt that will fit right with very fast and quick shipping."


"The TallSlim Tees are prefect for my size, plus the quality is great, I am 6'1 165 and the shirts fit perfect."

"I don't want to overstate this but…. Tall Slim Tees has changed my life! This is literally the first place I can order a tee and I just know that it will fit me perfectly. Enough of the big and tall, I'm just tall period. I recommend this to all my slim friends, even if they have not asked me where I buy my awesome shirts. I am completely satisfied with the fit and the quality and what more could you ask for."


"At 6'4″ and 190lbs, standard t-shirts have always fit me poorly. Tall svelte guys know the issue all too well: medium shirt = nice torso fit, too short waist and uncomfortable sleeves; large shirt = good length and sleeves, way too baggy in the middle. Finally fed up with frustrating compromises and wasted money, I searched online. And there on my computer screen the answer came to me: TallSlim Tees. An oasis in a clothing desert, a lightning bolt setting the t-shirt underbrush aflame, the microbrew IPA at the back of the fridge when you thought all you had left was lite domestic… you get the point. A million thanks, TallSlim Tees. Never again will I settle for a t-shirt that doesn't fit!"


"Normal T-shirts are either too wide or too short, and in both cases they look ridiculous, especially when you consider that most T-shirts on the market shrink at least an inch or two after washing. After a few minutes on the internet I came across your company and decided to take a chance on a couple of T-shirts for my son. At the time I thought, if the T-shirts are no good I will chalk it up to experience and move on. So imagine my surprise when just a couple of days later the T-shirts arrived. My initial thought was "wow this is pretty good customer service". My son immediately wore one of the T-shirts and I thought "They look really good on him, BUT let's see how they wash!" (I admit it I was still a little skeptical). The answer is that they look as good after 20 washes as they did the day we received them. I was so impressed that I immediately purchased more colors for him AND I realized that my younger son could also benefit from this amazing find. I starting buying up all colors for him as well."


"We ordered a few basic white and black tee's from you for my son, Kile. He is 6'5" and about 200 lbs. At first we thought the material was a little stiff and they smelled a little like the factory they were probably made in, but after we washed, they were perfect and fit sooooo well! He literally wears they every day and they still feel like new!!!"

"I am 6'4" and 170 lbs. I like the Pique Polo shirts. They are truly made for the "tall, skinny" guy. The length is similar to other tall shirts I have purchased. However, whereas other tall shirts look "baggy", these shirts are more streamlined for a trimmer physique. Can't beat the price, too! Thanks TallSlim Tees."


"I'm 6'4" and have always had trouble with t-shirts. They are often either too short, or if they are long enough they are too baggy. When I first heard of Tall Slim Tees I was skeptical, but willing to give it a try. Once I received the shirts I was very impressed by the quality. They are very soft, yet have held up for nearly two years now. I love the way they fit and often get complements on them. When new colors and styles were released I was quick to order more and now have 11 shirts in a variety of combinations. This is now the only t-shirt I buy, and I will be trying out the hoodie and polo soon. FYI the size chart is very accurate. I weigh 215 and selected the Large size and love the way it fits."


"We, the tall slim men of the earth, have lived under the conditions of the average man for far too long: ducking under shower heads, sleeping on diagonals, wearing tall boots to meet our jeans, and swimming in so many XL t-shirts. We've been the outsiders, the misfits, the few that have been ignored by big retail. All that has now changed. Or at least some of it. TallSlim Tees has us covered. No more tailoring t-shirts, that is just absurd. Now we can look good, hassle free, as we reach up high for the salad spinner, trim the apple tree, or paint the ceiling of our girlfriend's home. Comfortable, stylish, quality: you can't go wrong."


"I really love my Tall Slim Tees. I own 3 v-necks and 1 crew neck. I'm 6'5″, 200 lbs and the medium size fits great. I wear one my TSTs almost every day. They are my. DS standard of t-shirt. Won't even look anywhere else. If I had to rate my shirts I'd give them 4 stars. The reason they aren't a 5 is because the material on the shirts will start to pill after a few months. All in all, great shirts. Super comfortable."

"For most of my life I could never find a T-Shirt that fit correctly. Mediums always fit width wise and fit around my arms tightly. But length wise they were way off, if I raised my arms at all they would instantly turn into belly shirts. Larges on the other hand fit great length wise. I could lift up my arms without fear of showing the world my stomach. But I always looked like I was drowning in the large. They were far to wide width wise and make my arms look so small with all the excess arm room. So one day I went surfing the Internet for a longer medium T-shirt and that's when I found TallSlim Tees. I figured I would give it a shot and get one of their T-Shirts. So I order the medium and it fit perfect! It has fit me better than any shirt I have ever owned. Length wise it fit great! It is longer than a large which is nice and width side it fit tight but not too tight. It actually looks like I have real size arms in it! It has no logos on it and is plan but I get the most compliment from that shirt than any other I wear. I wish I could order one in every color and replace all my T-Shirts with these! I am definitely a life long customer!"

"About a year ago, I discovered the best clothing company for my tall, slim body – Tall Slim Tees. This clothing line is AMAZING! The shirts have added length in the torso and the arms that give me a nice forming fit instead of creating a box around my torso and wings around my arms. If you are tall and slim, then you know how unflattering and uncomfortable the "box fit" can be. Tall Slim Tees apparel is great for all activities from working out to casual wear. Tall Slim Tees products look phenomenal, are comfortable, high quality and cost efficient; you won't find a better shirt for a better deal. If you are tall, lean, and have trouble finding an adequate fitting shirt, then look no more. TallSlim Tees is your solution. Trust me, you will not be disappointed with your purchases and you can finally stand tall (and slim) all while rocking a Tall Slim Tee."

"Since high school, I have not had a shirt fit well in both the shoulders and overall length without significant and expensive tailoring. I am now 34 years old, 6'7" and 205 lbs. I ordered a "White Audel Cotton Crew Neck" from TallSlim Tees after reading a positive review on Reddit. I was shocked when it fit. Perfectly. No tailoring was necessary. If you are tall and thin, I cannot recommend a better tshirt. As a note, the Audel fabric is great for traveling because it does not wrinkle easily."

"I've gotta say your shirts are amazing!! Something I've been looking for my whole adult life. At 6'6″ and 190lbs, finding shirts that fit me used to be impossible. I would literally spray my shirts with water and stretch them down every time I wore them. Not only do your shirts fit perfectly, but the material and quality is awesome. I've got your T's, tanks, dry athletics, and I love 'em all. From a tall, skinny guy like me, a HUGE thank you! Keep it up!"

"My only regret is that I didn't have Tall Slim Tees all of my adult life. I had gotten used to shirts that barely reached my belt, were wide enough to fit several of me inside, or some combination of both! Now, I have a dozen Tall Slim Tees – both short and long sleeve – and I will continue to collect every color variety possible. They look great with any pants or shorts, and the short and long sleeved shirts layer nicely. I love the simple, tasteful colors free of logos and designs. The quality and fit is as advertised, and they are softer and more comfortable than regular shirts. They absolutely tick all the boxes for a 6'5, 195 lbs guy like me: Great fit, comfort, style, quality, and price. It's quite liberating knowing I will never have to bother shopping for shirts anywhere else again!"